CommonWealth Technology Group, Inc. is a full service computer firm located in the heart of downtown Hopewell, Virginia. CWTG's computer expertise and customer service has earned them a reputation for excellence that extends far beyond the city limits. CommonWealth Technology Group is unique in its ability to provide quality solutions for a wide scope of customers, large and small. CWTG is small enough to provide you with the individual attention to assure your computer needs are met in a timely and friendly manner, yet large enough to handle the service and purchasing needs of large companies. Our typical customer ranges from the home user who needs reliable, fast internet service or competent PC repair service, to the large industries common to this area such as Honeywell and Smurfit-Stone Container, who need large scope projects completed on schedule and on budget.
CommonWealth Technology Group is also extensively involved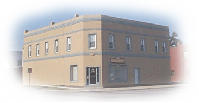 with the Miss Utility Service of Virginia, along with its counterparts in Indiana and other states. We provide Utility Locating Management software for their member utilities along with service, support, and sales to the centers themselves.
This long running relationship with utility companies and utility locating customers speaks volumes for CWTG's reliability as a support provider, because quality and timely service goes beyond "making the customer happy". In the business of utility locating, poor service results in property damage, loss of utility service, and even injury or death for excavators. CWTG has repeatedly proven that its responsibility to its customers will be met.